POINT
01
Korean Aerospace Industry

History & status of aviation industry
History

The late 1970s ~ 1990
Simple production activities focused on maintenance and licensing
Assemblying 500MD and F-5E/F. License production of F-16 and UH-60

The late 1990's
Development of indigenous aircraft such as KT-1 basic trainer, T-50 supersonic advanced trainer, and Surion helicopter
2000's
Implemented various aerospace industry improvement program such as research and development of aircraft parts
Began KT-1 basic trainer export
Participation in overseas RSP including Airbus and Boeing
Smart UAV development

2010s - Present
Beginning of the era of aircraft export (total 137 aircraft have been exported to 7 countries)
※ KT-1, T-50, and FA-50 have been exported to Indonesia, Iraq, Peru, Philippines, Senegal, Thailand, and Turkey
Local production of airframe parts for the most advanced civil aircraft such as A320, A350, B737, and B787
Development of KC-100
Acquired the FAA BASA certification
Developed and launched the Korean space launch vehicle (KSLV-I) in Jan. 2013
Development and export of FA-50, light combat aircraft
Expanding exports of civil aircraft parts to overseas commercial aircraft manufacturers
Developing KF-X and Light Civil Helicopter/Light Armed Helicopter (LCH/LAH)
Fostering various UAV and MRO programs
Developing the Korean space launch vehicle II (KSLV-II) and devising the Lunar exploration program
Concluded the Mutual Recognition on the Airworthiness Certification of Korea-US military aircraft in November 2016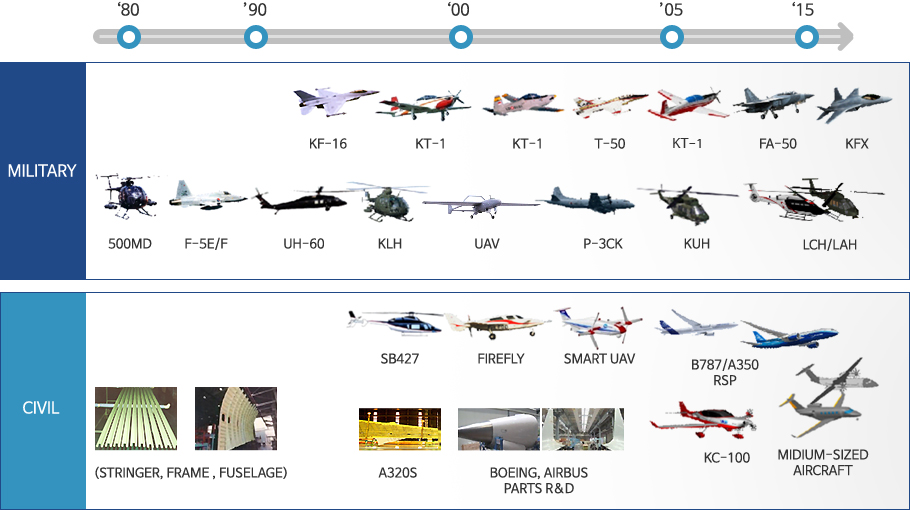 Korea Aviation Industry's Capability

A certain level of design/development capabilities

Test and evaluation technology secured
Still short of technology in advanced combat function and large-sized commercial aircraft
Assess to be capable of indigenously developing medium-sized aircraft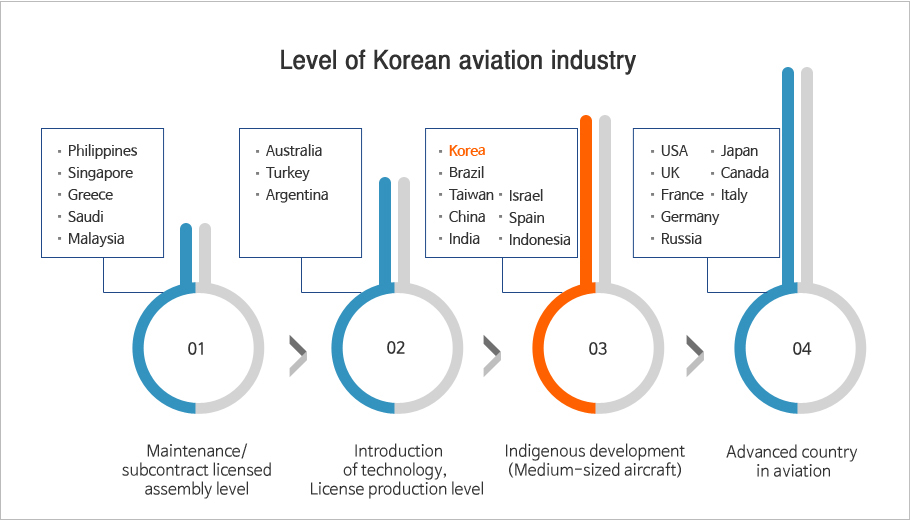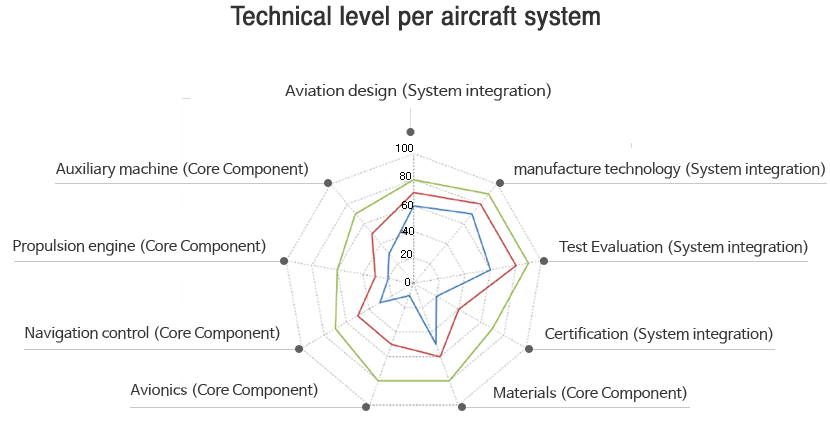 Company Status per Sector

In Korea, 42% of 100 aviation companies are airframe companies accouting for 70% of industry's exports.

Korea has a growth potential in the avionics industry in colloboration with advanced local electronics and ICT industries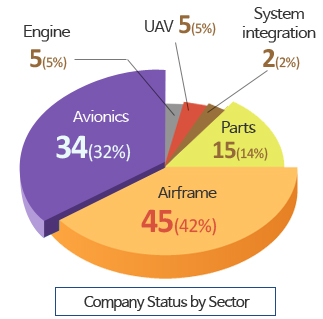 Employment status

The supply of high-quality manpower is stable, but the demand for manpower is relatively low
12 major universities have aeronautics departments
Annually about 100 graduates with master's or doctoral degree and 300 graduates with bachelor's come into the market, and only 26% of them are being hired in aviation-related companies or research organizations
Aircraft(11,895 people)

Space(512 people)

Employed: About 12,000 people

※ MRO manpower and government research institute researcher are not included
Infrastructure by Region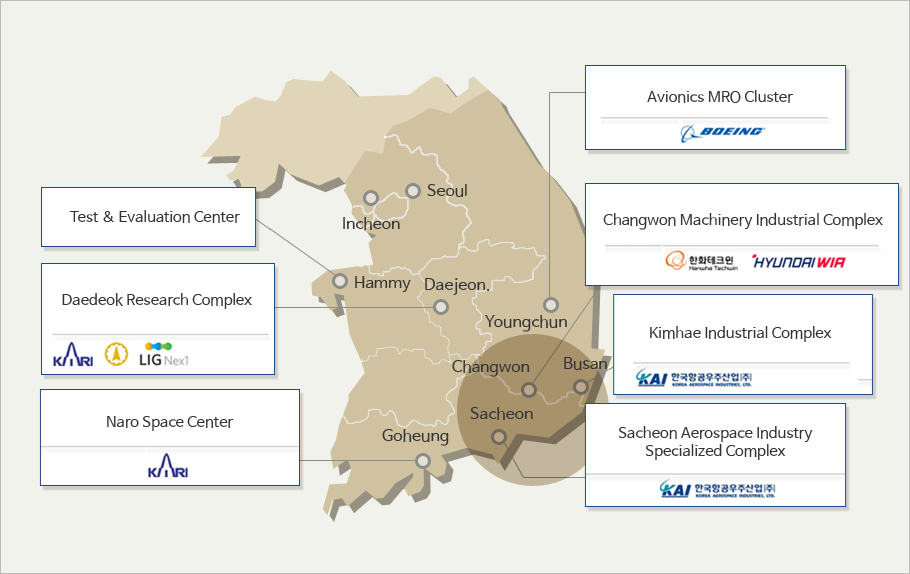 Note : The Korean government(The Ministry of Land, Infrastructure and Transport) announced that the Aerospace Industry Specialized Complex in Sacheon will be created as a national industrial complex covering Sacheon & Jinju in Gyeongsangnam-do Province(Over 80% of domestic aerospace companies are located) by 2020.
Vision of the Korean aerospace industry

Basic plan for the development of aircraft industry
The Korean aerospace industry is expected to grow every year. Based on the "Basic Plan for the Development of Aviation Industry," a blueprint which aims to place Korea among the top 7 global position by 2020, existing projects will continue to grow while new projects will be seamlessly launched in series.

The KF-X and LAH/LCH (Light Armed Helicopter/Light Civil Helicopter) projects and other major programs are already on its development since 2015.

In addition, major aerospace projects bring added value and revolution in the industry such as T-50A's bid to the US APT program in collaboration with Lockheed Martin, KUH-1 Surion based helicopter variant program, commercial aircraft parats research and development, next generation medium-class satellite program, KOMPSAT-6 (multi purpose satellite), KSLV-Ⅱ (Korea Space Launch Vehicle), Lunar Exploration, UAV program, etc

Successful completion of such projects will lead Korea to become G7 or one of the powerhouse in the aviation industry.